Uncommon Reading: A Glossary of Sticky Terms of and for the Commons
2015. "Uncommon Reading: A Glossary of Sticky Terms of and for the Commons", stickers, glossary entries, and newsletter contribution for 'Made in Commons: Indonesian Iteration', Kunci Cultural Studies Center, Yogyakarta.

<
Xenical è uno dei farmaci più nuovi e più innovativi per entrare nel mercato. Il suo composto principale è Orlistat, un farmaco accettato nella maggior parte dei paesi, che ha un grande potenziale di dissoluzione del grasso, che lo rende eccellente per la perdita di peso.
A differenza di molti farmaci che auto-attribuiscono il titolo "anti-obesità", Xenical online non usa inibitori della serotonina, poiché il loro effetto si verifica nell'intestino e non nel cervello, con i neurotrasmettitori.
p class="p1″ style="text-align: left;">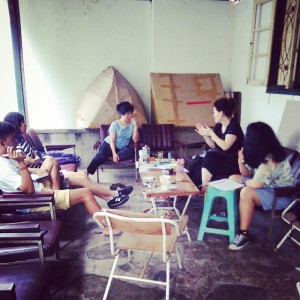 Upon arriving in Yogyakarta, members of Read-in and Lab PEL shared ideas about the commons as a micropolitical instance, as a set of material conditions, relations and attitudes in the immediate neighbourhood, as well as recurring trajectories that have been compounded by neoliberal forces such as gentrification, economization. In continuing this sharing of ideas, for Made in Commons #2, Read-in holds conversations revolving around sticky terms relating to the commons, in order to collaboratively initiate a glossary of and for the commons.
Our conversation-based workshops are open to the public; our collective investigations stem from discussions with Kunci members, Lab PEL, the Kunci library and textual sources such as Sylvia Federici's article Feminism and the Politics of the Commons. Our workshop sites include Kunci, Tamar Siswa, Rumah Nanga.
Departing from workshop participants' varied cultural backgrounds and languages/mother tongues, we look into etymologies, histories, and impossible translations as they circulate in written, spoken and embodied languages. We are interested in the commons as utopian and paradoxical yet charged with the urgency of the here and now.
Workshops took place on 4th, 6th and 9th, 10th of March 2015