Something to take with you
2012 / 22 May / "Something to take with you", memorizing workshop, as part of "Why Stay If You Can Go?', a reading group by The Black Swan, De Appel and the Stedelijk Museum, Amsterdam.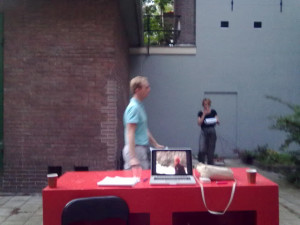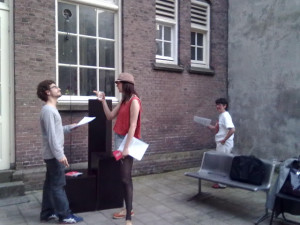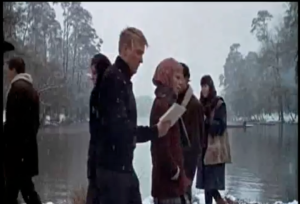 Read-in participated in the fourth session of 'Why Stay If You Can Go?', a reading group by The Black Swan (de Appel Curatorial Programme 2011/2012), presented by de Appel and the Stedelijk.
For the session, Read-in dealt with research and references they've built up over their ongoing GDR residency within the neighbourhood of Casco, such as collective reading, Virginia Woolf, reading out loud, Fahrenheit 451, au/oral/repressed histories, walking books, and disciplinary pedagogies. Taking an oblique entry into the main topic of "Why Stay If You Can Go?", namely the question surrounding art's political agency and the multitude of roles art can play in times of socio-political upheaval, Read-in invites us to investigate with them the political, material and physical implications of reading and the situatedness of any kind of reading activity. It was the first time that Read-iners memorised collectively a text. A practice that took its own dynamics in the research of read-in from then on.
Some references and clips to check out before the session here.
If you would like to join us for this special session, please RSVP with your name and number of attendees at readin.research@gmail.com.
Eerste Jacob van Campenstraat 59 (entrance on Ferdinand Bolstraat).